JOIN THE TEAM AT WORLD BOOK DAY WHO ARE CAMPAIGNING TO GET THE NATION SHARING STORIES FROM BREAKFAST TO BEDTIME
The nationwide campaign is to help change children's lives, by making story-sharing a habit of a lifetime and creating readers for life. Reading for pleasure is in decline, so we want to boost it back up, raise awareness and spark millions of imaginations.
Dunn Street will join the fun nationwide social event to share the enjoyment and pleasures of reading … SHARE A STORY on World Book Day… and every day. Spending just 10 minutes a day reading and sharing stories with children can make a crucial difference to their outcome and it's fun for all involved. You can read together anywhere and everywhere, from breakfast to bedtime! In the park, on the train, on the sofa, on a plane – reading and sharing stories can happen anywhere at any time.

Why should adults get all the self-help books?! There are also lovely reads and activities for youngsters who need some extra support to feel relaxed, mindful, grateful, inspired and happy.  Click the picture above to explore 13 books to help your child feel more calm and mindful.

NATIONAL CENTRE FOR THE WRITTEN WORD
South Tyneside's new state-of-the-art cultural venue, situated in the heart of South Shields, is brimming with exciting new experiences, activities and facilities for people of all ages to enjoy.
July 2019 marked 50 years since man first set foot on the Moon and to celebrate this momentous event The Word's current exhibition is 'Amazing Space'.
Amazing Space celebrates Space fact and fiction, taking visitors on a journey from planet Earth through the Solar System and beyond. You can discover the stories inspired by Space and watch clips from classic science fiction movies old and new.
A short film created especially for the exhibition will entertain and educate you about life as an astronaut: the good, the bad, and the occasionally unpleasant!
You can step inside our astronaut's spacesuit and replicate the photograph taken on the first Moon landing and  children can try to solve our Space-scene jigsaw or listen to a selection of Space-themed music. See costumes from Star Trek and Star Wars and marvel at an original Washington Post newspaper dated the day after the 1969 Moon landing, which has been signed by legendary astronaut Buzz Aldrin.
Prepare to be blasted off into Space and trust us when we say: the fiction is strange but sometimes the facts are stranger still…
This out-of-this-world free exhibition is now open and will run until 23 February 2020.
Click here to see what is happening at The Word now…
Supporting your child with their phonics reading
There are two sites, we recommend, that will give you easy reference to phonics and activities that you can use to support your child's early reading journey:
The first is the ceebeebies Alphablocks Guide to Phonics – click here to visit the page.
Say the sounds
There are 26 letters of the alphabet but they make 44 sounds. Which  sounds would you like to hear spoken aloud and in example words?  Visit the Oxford University Phonics Made Easy site to hear examples!
Click her for: Oxford University Phonics Made Easy site – this also offers advice on the Year 1 Phonics test.
There is also advice about the Year 1 Phonics test on our assessment page…click here.
New children's books we love
Every month, we review dozens of books for children and teenagers. Here are the ones we liked best in February: guaranteed to get your child reading… 
Whether they're a teeny toddler or a very particular teen, this is where you can find your child's next amazing book: just scroll down to find books for a range of ages.
You can also keep track of the latest titles by looking at our past reading recommendations for:
January | December | November | October | September | August
We've sorted our favourite new books into rough age ranges, but this is just a guide and readers might find something they'll love in a different category. Click here to visit the page. 
Click here to find stories about starting school…
Best new books for 2018 can be found by clicking here…
Click here to access the Parents' Book Finder!
The nation's favourites
The Book Trust asked the nation to vote for their favourite top 10 and here is the definitive ranking:
Harry Potter and the Philosopher's Stone by J K Rowling
The Hunger Games by Suzanne Collins
The BFG by Roald Dahl, illustrated by Quentin Blake
The Very Hungry Caterpillar by Eric Carle
Winnie-the-Pooh by A A Milne, illustrated by E H Shepherd
The Cat in the Hat by Dr Seuss
The Fellowship of the Ring by J R R Tolkien
Charlotte's Web by E B White
Northern Lights by Philip Pullman
The Lion, the Witch and the Wardrobe by C S Lewis

The enormously popular and influential Blue Peter Book Awards have been recognising and celebrating the best authors, the most creative illustrators and the greatest reads for children since 2000.
Blue Peter Book Awards 2019 – Best Story
Winner: The Boy at the Back of the Class
By Onjali Rauf, Orion Children's Books
The Blue Peter Book Award for Best Story 2019 was The Boy at the Back of the Class. Onjali Rauf's first book tells the story of how one ordinary nine-year-old child and three classmates are full of empathy for Ahmet (the boy at the back of the class), who comes to their school as a refugee from Syria. Through their sensitivity, curiosity, ingenuity, bravery and innocent niceness, they make a massive impact on Ahmet's life, friends, class, school, community and wider world.
Discussing the award, Onjali said: 'What a wonderful, surreal and truly epic honour it is to win this wonderful award! I can hardly believe that my childhood dream of owning a Blue Peter badge one day has come true in the most unexpected way possible! I am utterly bowled over by the love and support The Boy at the Back of the Class has received not just from the marvellous Blue Peter Judges, but all the children who voted for its place as a winning title this year – thank you.'
Onjali Rauf on how to create a new world from the one you live in right now…
Blue Peter Book Awards 2019 – Best Book with Facts
Winner: The Colours of History
By Clive Gifford, illustrated by Marc-Etienne Peintre, QED Publishing
The Blue Peter Book Award 2019 winner for Best Book with Facts was The Colours of History. Who would have thought a book about colour could be so interesting? Each brightly coloured page brings another shade of colour to life. Using pantone samples, this book teaches us about origins and uses for over 20 different colours to illustrate the history of colour. From red to green to purple, this is a book which covers everything.
Author Clive Gifford said: 'To be recognised by a show I watched and loved as a child (and still do as an adult) is a remarkable thing. I'm tickled pink! I want to thank all the children who voted for The Colours of History. And a big thank to BookTrust for the remarkable work they do. Awards like these are so important in getting across how books with facts can tell incredible and important stories and excite, inspire and entertain young minds as much as fiction.'
Illustrator Marc-Etienne Peintre commented: 'I was very lucky to get to work with Clive and the Quarto team on such an interesting subject. I am extremely honoured to have won this prize, and most of all, to know that the children the book is intended for have read and enjoyed The Colours of History.'
Top ten facts about colour and their role over the centuries
Previous winners:
2017 Winners: Podkin One Ear and Survivors have won this year's Blue Peter Book Awards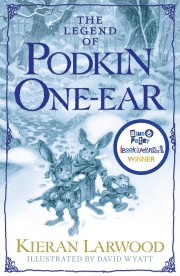 2016 The Epic Book of Epicness and The Nowhere Emporium
2015 The Silly Book of Side-Splitting Stuff and The Spy Who Loved School Dinners 
2014 Best Story: Rooftoppers by Katherine Rundell (Faber & Faber); Best Book with Facts: Tony Robinson's Weird World of Wonders: World War II by Tony Robinson and illustrated by Del Thorpe (Macmillan Children's Books)
2013 Best Story: Tom Gates – Genius Ideas (Mostly) by Liz Pichon (Scholastic); Best Book with Facts: Horrible Science: House of Horrors by Nick Arnold and Tony De Saulles (Scholastic)
2012 The Considine Curse by Gareth P Jones (Bloomsbury)
2011 Dead Man's Cove by Lauren St John (Orion Children's Books)
2010 Frozen in Time by Ali Sparkes (Oxford University Press)
2009 Shadow Forest by Matt Haig (Corgi Children's)
2007 The Outlaw Varjak Paw by S. F. Said, illustrated by Dave McKean (David Fickling Books)
2006 Lost and Found by Oliver Jeffers (HarperCollins)
2005 Private Peaceful by Michael Morpurgo (Collins)
2004 Man on the Moon by Simon Bartram (Templar)
2003 Mortal Engines by Philip Reeve (Scholastic)
2002 Feather Boy by Nicky Singer (Collins)
2001 The Wind Singer by William Nicholson (Egmont)
2000 A Pilgrim's Progress retold by Geraldine McCaughrean, illustrated by Jason Cockcroft (Hodder)
Still looking for new and exciting books to read?  Why not try the Book Sorter?
All of the books in the Book Sorter have been added by children just like you!
Now you can find out what other children have recommended by clicking here.
Click here to "JOIN US" for FREE and access a great range of FREE E-BOOKS that compliment the school's Reading Scheme!  Great for encouraging reluctant readers or a different experience for everyone that LOVES books!